Let us begin with an understanding of what kind of e-commerce Platform can be called OMNICHANNEL.
Omnichannel refers to an extravagant e-commerce platform that has the capability to connect various platforms interacting across the globe. In Ecommerce, the term Omnichannel means a multichannel approach to sales that focuses on providing a seamless customer experience. The client gets the freedom to shop online from a mobile device, a laptop, or in a brick-and-mortar store.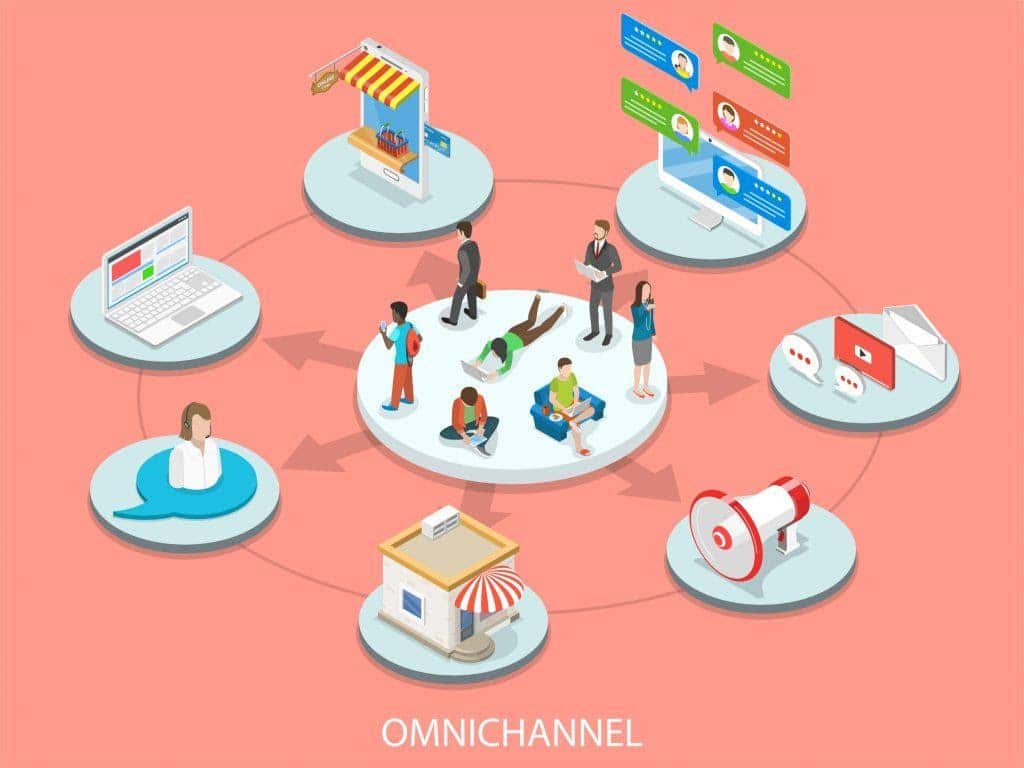 Before moving ahead to understand WHY? MAGENTO is termed as an Omnichannel e-commerce platform, and we need to know there is no Omnichannel Ecommerce possible without Multichannel e-commerce. So the very next question that comes here into our mind is now what is a MULTICHANNEL Ecommerce Platform?
Multichannel Ecommerce means being able to sell products to customers on different channels, both online and offline. As a seller, you can interact with your customer in multiple ways through social media, phone, and visiting their physical storefront. Being present online is what matters, and at the same time, your customers exactly know where to find you. Multichannel is already a great strategy to increase user engagement with your brand. Isn't this GREAT!
What is far more better, that it also comes with a package of WONDERFUL user experience for the Customers? Here's where Omnichannel comes into the picture!! The massive difference between them both is that Omnichannel Ecommerce connects all channels. This means your customers avail a seamless experience across all Ecommerce platforms. Now, this is what we call DOUBLE BONANZA!!
Moving further, we are now quite familiar with some briefs on what an Omnichannel platform means. Let us go ahead and understand why MAGENTO is termed as an Omnichannel e-commerce platform. Consumers demand flexibility when they surf on online stores. To establish revenue, you need to ensure your online and in-store business(s) are linked. This helps you stay competitive in today's high-trending marketplaces. Your products can be available to your Buyers anytime, and every time they are willing to shop via any channel, through any device, and they expect your store to provide them various options. This is when Magento being an Omnichannel platform, comes to the seller's rescue! Magento has Adobe Commerce for Omnichannel. Now the question is, WHY Adobe?
Here are a few reasons to satisfy your curiosity:
A Better In-Store Experience that Helps Increase Lifetime Loyalty and Sales:
Providing your customers the options to buy online and to pick up in-store not only makes them happy, but it means excellent profits in the business. A survey conducted recently showed around 49% of shoppers make an additional purchase while picking up their items. Well, this means with minimal customization(s), a (BOPIS) Buy Online, Pick-up in Store system can be effectively modified for pickup, further expanding a merchant's fulfillment options along with a moderate increase in customer satisfaction.
Omnichannel – An Imperative Business Helps to Stay Competitive:
Companies that have yet not adopted an Omnichannel approach are considering this as a matter of urgency. It is pretty predictable that by the end of 2021, mostly all retailers will adapt to and adopt a Retail Omnichannel eCommerce platform and will reap up to a 70% increase in profitability. Thanks to the higher revenues, reduction in the (TCO) Total Cost of Ownership, (IC) Inventory Costs, (OC) Operational Costs, and (PP) Promotional Pressure.
Omnichannel Experience and Order Management:
With Magento eCommerce, your global inventory can be centralized, intelligently sourced for fulfillment, and finally merge your online and offline worlds. It gives you the freedom to increase efficiency, reduce cost, and provide the best possible shopping experience. Also, the Magento Marketplace and open API will allow further customization and OMS integrations to create the perfect solution to meet your needs.
Grow Your Business with Flexible Order Fulfilment:
More fulfillment options mean more sales. The reduced operational cost of managing global inventory while turning your stores, suppliers, and partners into small distribution centers. Growth in sales by providing online shoppers the best shopping experience by displaying/ showcasing your in-store inventory to the online shoppers. You must provide flexibility to fulfill the orders, which can be ship-from-store, buy online, and pick up in-store.
After having learned what's and how's about Omnichannel. Let us highlight some differences between the two (Multichannel and Omnichannel E-commerce):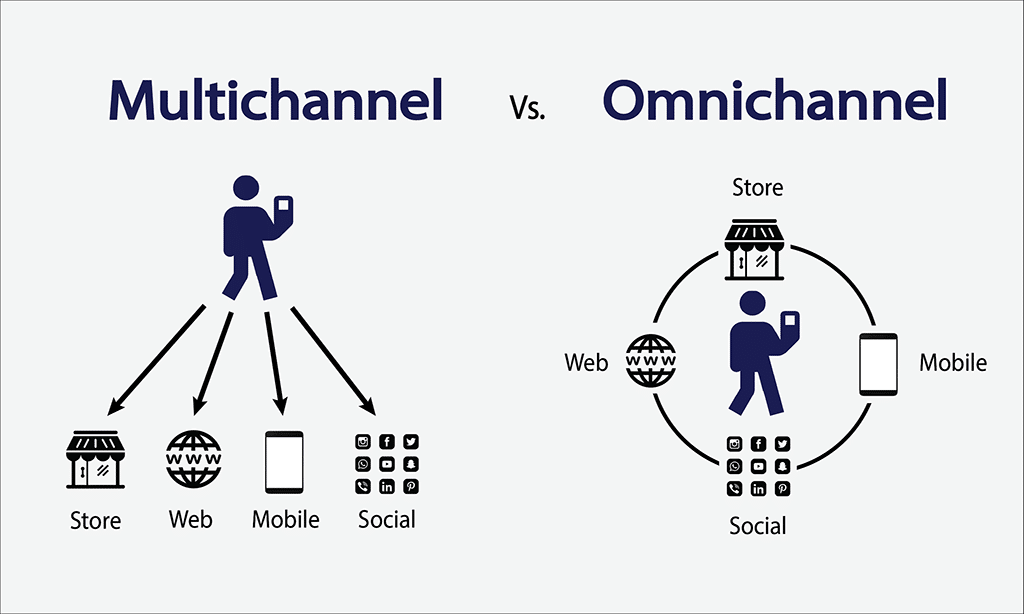 At first glance, it is natural for people to look at the words "Omnichannel" and "Multichannel" and assume them to mean the same. It is evident, looking at the fact that they both have multiple channels that any business utilizes to communicate with their customers. However, they do have significant differences that give them varying functionalities.
Let's learn what makes them separate yet dependable in today's trending marketplaces:
| | | | |
| --- | --- | --- | --- |
| Sr.# | Multichannel Ecommerce | V/S | Omnichannel Ecommerce  |
| 1 | Customer (A) visits Company (A's) website, browses the products, and notes a specific item.  | | Customer (B) visits Company (B's) website, browses the products, and actually finds the item they have been looking for. |
| 2 | That customer then drives to the company's local retail store in the market after choosing between purchasing the item in person. | | The product/item is listed as in-stock at the company's local retail spot/shop/store, so Customer (B) adds the item to his/her online Wishlist and drives to the retailer. |
| 3 | Unfortunately, Customer (A) cannot locate the item in-store and, after asking a service representative for assistance, he discovers the store doesn't have any of the items in stock. | | Once in the store, Customer (B) is greeted by a service representative with a tablet to access and check the individual's Wishlist and locates the item in question immediately. |
| 4 | Customer (A) leaves the store disappointed and empty-handed. | | Customer (B), as usual, then finalizes his/her purchase and drives back home after an overall satisfying shopping experience. |
Here's what we found from the above-stated scenarios to differentiate between Omnichannel and Multichannel Ecommerce:
In the first scenario, Company A  allows the customers to engage with their brand in several ways. However, this fails to add an overall value to their shopping experience. On the contrary, the discoordination among the channels leads to frustration to the customer.
In the second scenario, all engagements are a part of a centralized experience for the customer. Therefore, they can genuinely "pickup from where they left" for the brand in question, regardless of the channel in use.
The customer gets exactly what they have been looking for and how they wanted their product to be delivered to them. There is no question of any kind of miscommunication or misinformation nor involvement of any redundant process(es).
To conclude:
While both the scenarios appear similar the first time; however, both Omnichannel and Multichannel marketing have some distinctive differences. Multichannel marketing, we can say, is the best for business bodies looking for expansion of their eCommerce circles. On the other hand, Omnichannel marketing works excellent for allowing companies to tune in to improve customer retention.
Omnichannel marketing is about more work and dedicated focus from a company's employees to implement. However, the benefits of making Omnichannel marketing a choice make it worth that extra effort when it comes to considering work and time. Once a company applies an omnichannel strategy to their online marketplace, they can retain their customers and continue to grow their business. 
Hope you found this blog informative and fulfilling.