What does Google My Business mean for your Business?
As you know, Google holds a great section in the digital world, which shows it is essential to stay updated with its guidelines. The GMB profile is a marketing tool with excellent SEO benefits for the business, such as gaining visitor's attention, higher conversion rates, and more. The strategy of Google is to provide the best search experience to the users by creating great listings of business. 
There are meager chances where customers perform a direct search by adding your business name and address directly. Your business has greater reach when customers perform branded or discovery searches on the SERPs. In such cases, users search for a specific brand, product, service, or category, and your business appears in the listing. The proportion of these searches are: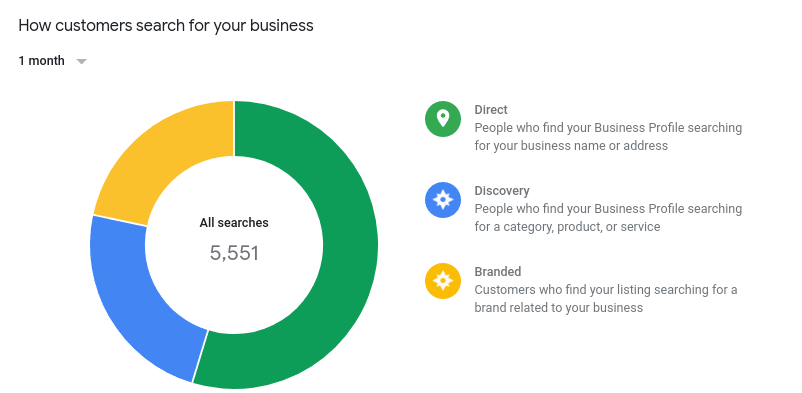 This graph shows how essential Google My Business profiles are to grab visitors' attention. 
Some Updates in GMB during the Pandemic are:
Now Update the Business Profile Easily
If you have signed up to your Google account, you have the freedom to update the business using the Google My Business dashboard. It now allows you to create posts, reply to the reviews, or add pictures when you go with your smartphones. This update is already saving a lot of time and ensures that your visitors get updated information about the business. 
Announcement Related to Covid-19
You might have noticed that businesses now have an option to make announcements about them related to Covid-19. You can mention the working hours or temporarily closed. This is essential for local businesses to keep their customers updated about the changes, so they won't suffer while taking your services. 
There is space in the Google My Business profile to add necessary instructions during the visit. Some instructions may be that your team will wear protective gear, maintaining social-distancing, and masks are compulsory for the visitors.
Add your Services 
Google My Business made it easy for potential customers to look at your business's services in the listing. The new service feature gives you the freedom to add a category and includes the service within. Get the right SEO services as you need to add a description of the services in 300 words. They will make sure to use the right keywords to increase your visibility in the local search results. 
Quotes and Appointments 
This has been a beneficial update by Google My Business, as this allows you to add an appointment link in your listing. This link will redirect your potential customers to the website and make an appointment with your business. It saves a lot of time as customers will quickly book meetings for various services instead of calling or navigating through the website. The Google My Business app allows business owners to respond to text messages or customer inquiries. This is a great option when you don't have an active contact place as it gives customers a direct path to reach you. 
Google Guarantee
This exciting feature is rolled out by Google My business with SEO benefits for the business that has a digital platform. The Google Guarantee Badge Certification helps in maintaining a positive reputation among the customers and gain their trust. It has a qualification and screening process for businesses to help achieve this badge and display the same in your listings. Customers can easily trust websites with certified companies and be assured that they will receive the right services. The Google Guarantee feature will increase leads and help in beating your competitors effortlessly. 
Digital Marketing guide for your Google My Business profile:
Set up your Listing
This requires you to add the right information about your business which is:
NAP (Name, Address, and Phone Number)

Operating hours and holidays 

Choosing primary category 

Selecting a relevant secondary category
Add Images
A significant section of the crowd prefers to look at the images to know about your business. Make sure you add high-quality pictures that might be of location, products, services, or more relevant to gain visitors' attention. Some essentials in the listing are:
Logo 

Cover photo

Additional Photos 

Profile picture
Create Posts 
This function was introduced in June 2017 by Google My Business. This section allows you to share the data with the target audience, like promotions, events, products, or services. It takes zero effort, but it has the potential to drive traffic to the website. 
Gain Reviews 
These are critical to maintain trust in the online world and gain people's attention. Ask your customers to leave a review, and sometimes you can give them something in return. Respond to the feedback regularly to show that your customers are valuable. This is also a brilliant strategy to add fresh content and rank higher in the search engines. 
Monitor Listings
Google My Business provides excellent insights about your business listing, which allows you to improve customer experience. Some information to note are:
How are customers finding your listing?

Are customers viewing your listing on Maps or Search engines?

What are customer actions after viewing the listing?

Comparison of similar business
Summing it up!
Well, you might get some new updates in Google My Business as they keep evolving to build a potential future for online businesses. We have given you some insights, but it is always great to know more about the best SEO services available in the market. They have the right knowledge and might build the right strategies for your GMB profile.