What are the best solutions for your eCommerce platform? Every business owner aims to maximize returns while making smart investments.
Maropost has made life easier for eCommerce developers with great features and functionalities. The platform aims to retain potential leads and build better connections with customers.
What is Maropost eCommerce?
[Source: https://bit.ly/3CCPdVL]
It is a cloud-based marketing automation platform focusing on customer relationships and strategies. This eCommerce solution enables online stores to manage and grow their revenue by providing some unique features like order management, customer segmentation, and cart recovery.
The platform provides services like email marketing, advanced reporting, customer data management, lead generation, and more to engage customers with multiple channels. Data-driven marketing has become the right method to increase ROI and conversion rates.
What are the great features of Maropost eCommerce?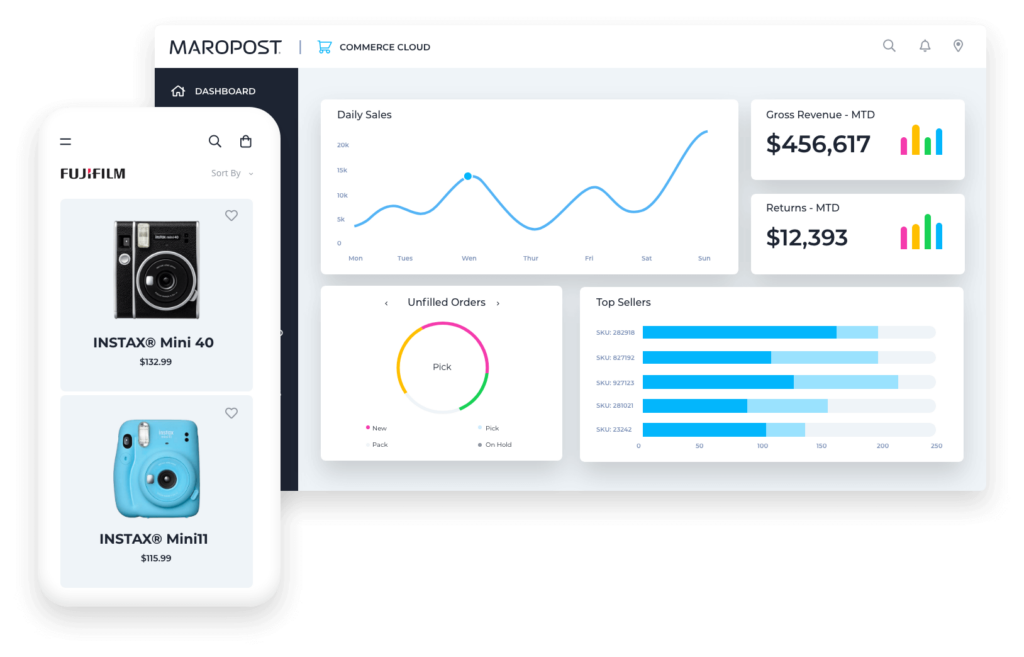 [Source: https://bit.ly/3CCPdVL]
Maropost marketing helps with major networks like email, mobile messaging, websites, and social media to promote the products. The software helps simplify complicated campaigns and automate processes to reduce owners' stress.
Some noteworthy features of the Maropost eCommerce platform are:
1. Email Campaigns:
This famous promotional channel provides the highest ROI and customer retention costs. It can help the users to build a string of new emails, duplicate previous actions, and edit running campaigns. Every button beside every campaign will help to dive into the email creation and make changes at any step.
2. Acquisition forms:
These are the landing pages that are designed to target leads. These might be sign-up, surveys, and more forms. Users get a simple editor to create a landing page using a drag-and-drop function to add elements. Suppose you design a page from scratch or add HTML code. It allows personalizing the keywords and setting expiry dates and URLs.
3. Push Notifications:
They are the pop-up messages that share your announcements with the customers quickly. Maropost provides a mobile app where you share push notifications and engage with the users directly. This is similar to SMS marketing but also has some additional features. Users can change the message icon color, add images, insert videos, and decide the location of the message.
4. Text Marketing:
The SMS channel broadcasts product updates, shares amazing offers, and announces upcoming sales. Maropost helps in eCommerce development with a simple two-step text campaign which will help to compose the message, choose the contact list, and schedule the campaign. The editor enables us to update the names, optimize content, add relevant keywords, and share the test message to preview the campaign.
5. Customer Segmentation:
It works like a buyer persona that helps to create market groups to deliver personalized strategies and build relevant content. The feature is available in the Audience tag, where you have a CTA to create a new segment, re-create something, or edit the existing one. This segment gives you fields to add rules and define the scope of your marketing campaign. Maropost allows you to add any rules and set your business's benchmark.
6. Social Media Channels:
The platform helps to compose quality social media posts and schedule them to target potential leads. The content category can be automated in a proper sequence. After creating a variety, it will publish the content again until it expires. The tool reshuffles the sequence of the campaign. Maropost has time-saving features that are regularly updated for social media accounts.
7. Monitor Website:
This analytical feature gives a detailed view of the campaign's performance. It will help the users track the leads and display the prospects of the visited pages. The data will help to understand customer interests and optimize the website to gain better leads. The web tracking function might need eCommerce development services to explore the right potential and find it extremely useful.
8. Content Management:
The platform has a content library that will save and manage the content of your marketing campaign. The library gives a separate space for multiple templates to store email templates, footer logos, save images, and coupon content.Also, it shares additional features that can be attached to the email. Such as countdown times, providing relevant content, and content feeds. Moreover, users can view dynamic content per the defined rules to generate better leads and keep the readers engaged.
9. Analytics and Reporting:
The entire segment is dedicated to analytics and reporting for user actions. There are several types of reports based on the campaign performance, tracking summary of a web page, and logs the customer engagement. The main dashboard has insightful information on the current activities, including bounce rate, revenue, and the number of clicks on the campaign. Also, users can further get in-depth analytics and map all the user activities. Customizing the reports by exploring all the features of the platform.
10. Shipping and Payments:
Inventory management allows users to deal with shipments and transactions from the Maropost dashboard. It has several shipping companies to handle shipping costs, pack orders, print packages, and deliver them to customers. The tools also have credit cards and PayPal to build a seamless checkout process for a great user experience.
11. Seamless Integration:
Maropost integrates with various other platforms, including CRM systems, social media platforms, and marketing automation tools, to help businesses streamline their operations and workflows. This increases the usability of the platform with better features and functionalities.
What are the uses of Maropost eCommerce?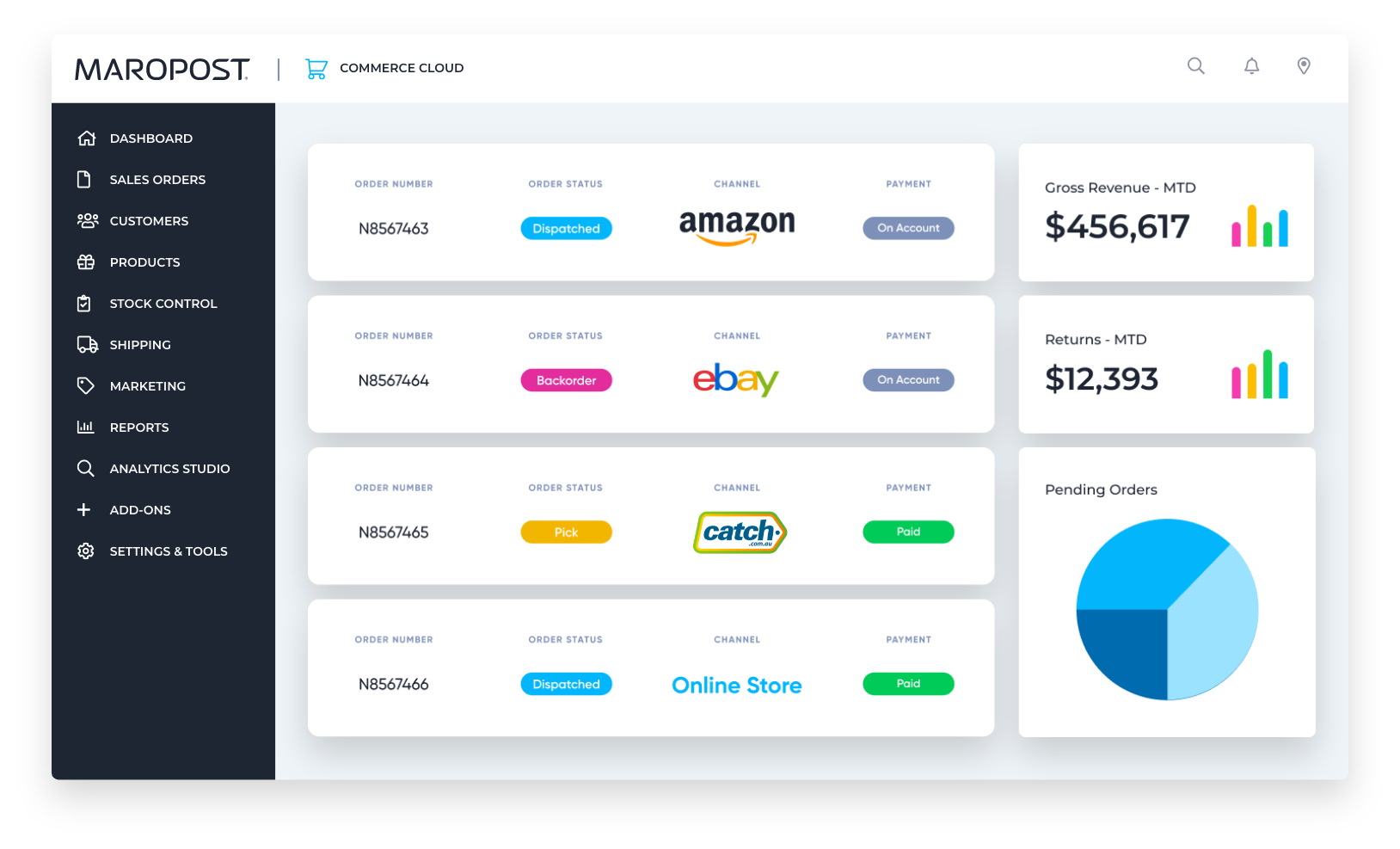 [Source: https://bit.ly/3jYNinP]
It is a cloud-based CRM (Customer Relationship Management) platform to manage customer interactions and data. It is used in eCommerce Website Development to handle customer interaction, monitor information, and analyze user behaviour. Some specific methods to use this are:
Managing customer data

: It allows businesses to store and organize customer data, including contact information, purchase history, and preferences.

Marketing automation

: This platform has tools for email marketing, SMS marketing, and social media marketing, which can be used to send targeted marketing messages to customers based on their behaviour and preferences.

Customer segmentation

: Maropost allows businesses to segment their customer base based on various criteria, such as purchase history, location, or behavior, which can help companies to tailor their marketing messages and offers.

Customer service

: This has tools for managing customer inquiries and complaints, including a live chat function and a customer service ticketing system.

Analytics

: It provides various analytics and reporting tools to help businesses track their marketing and sales performance and customer behavior and trends.

Email marketing

: Maropost provides tools for creating, sending, and tracking email campaigns to help businesses communicate with customers and promote their products.

Personalization

: The platform includes tools for

personalizing eCommerce

marketing messages and content based on customer preferences.

eCommerce

: Maropost provides many eCommerce tools to help businesses manage their online stores, including product catalog management, order processing, and customer management.

Customer data management

: Maropost includes a customer data platform (CDP) that helps businesses manage and analyze customer data from multiple sources, such as online and offline interactions, to create more targeted marketing campaigns.
What is the future of Maropost eCommerce?
It is challenging to predict the future of Maropost's eCommerce. A few trends will shape the future of eCommerce:
1. Continuous Growth:
eCommerce will continue to grow, and consumers will become more comfortable purchasing online. At the same time, businesses expand their online presence due to more customer demands. So, platforms like Maropost help the company to handle online store and marketing strategies.
2. Higher Competition:
As eCommerce marketing grows, there are chances that the competition will increase regarding eCommerce solution providers. This allows Maropost to advance innovations and improvements in the features.
3. Customer Behavior:
Customers have a certain way of purchasing online with the new technologies and trends. Maropost provides great tools and resources by optimizing for a better user experience. It changes how people interact with customers, is compatible with multiple devices, and other factors in engaging more users.
4. New Trends:
The potential focus of the eCommerce platform would be on the support of new technologies and features that makes it easier for the business to handle and optimize marketing campaigns. This might be the usage of Artificial Intelligence and Machine Learning to automate marketing efforts, integration of new transactions, and fulfillment technologies to enhance customer experience.
Overall, the future of Maropost and the eCommerce industry to shape the combination of changes in customer behavior and technological innovations.
End Note!
The data-driven marketing will ensure personalized experiences and deal with marketing technologies. Users can hire eCommerce developers to connect your channel with potential leads. It provides some advanced features and analytics to boost business revenue.
With the right experts, it gives freedom to handle email, social media, web, and SMS marketing from a single dashboard. Also, the experts will help to automate the necessary tasks like inventory, operating sales, integration, and support of multiple channels.