Ecommerce has been on the hunt to provide a smooth experience to the users in real-time. The best part is that the digital world has new technologies to bring great solutions for website owners.
During ecommerce development, it is vital to explore all the features and functionalities to meet the users' expectations. The aim is to increase purchases, drive sales, and increase conversions for the business.
What is ecommerce personalization?
[Image Source: https://bit.ly/3Fk6OUm]
It is the practice of creating personal E-Commerce User Experiences and interactions for online customers. The process depends on customer behaviours, location, languages, previous purchases, and other personal information.
The ecommerce platform needs to increase the importance of online buyers when providing a great experience and personalization.
Pretty easy, right?
Unfortunately, it is a great deal which requires a strong and unique strategy to grow the business. 80% of the shoppers make successful purchases from stores offering personalized experiences. This game-changing factor will engage people with your brand and lead to revenue growth.
What are the 3 elements of ecommerce user experiences?
A strong website will deal with a personalized experience to provide success with higher ROI. It is important to meet the three vital elements of ecommerce:
1. Data
All your strategies are derived from information, meaning you must collect rich data. An ecommerce website can identify the customer's background, values, and beliefs. Methods to gain insights into the target audience:
Analytics Tool: They help in knowing where visitors reside, devices used, pages visited, time invested on the website, pages with higher conversions, and more.
Social listening Tools: These will monitor the customer's say about the brand and competitors on social networking sites.
Behaviour Tool: It gives a visual representation of the sections that website visitors focus on and how much time they invested on each page.
SEO Tools: This will help to discover the right keywords that drive traffic and reveal content relevant to the customer's interests.
Email Signature: The email signature generator will help you include tracking pixels or links in your email signatures that can provide insights into customer engagement and response rates.
Data Opportunities: It is important to collect information from industry reports, research data, email marketing, interviews, and more.
2. Insights
Data is not enough for an actionable personalizing ecommerce user experience. The data collected from analysing, sorting, grouping, visualizing, and filtering becomes useful. Some methods to use the data:
Website: Businesses will be able to know the traffic, where, and returning visitors.
Email Marketing: Personal emails will likely engage users and increase conversion rates.
Paid Marketing: Businesses will analyze the average click-through rate to acquire users from paid advertising. To enhance their advertising strategies, many businesses choose to connect CRM with Google Analytics. By doing so, they can gain valuable insights into the effectiveness of their paid marketing campaigns and make data-driven decisions, optimize their ad campaigns for better engagement, and ultimately drive higher conversions and sales.
Social Media Analytics: It is important to determine the factors generating returns for the business. This might be because ages, occupations, and genders are helping create better conversions.
3. Key Performance Indicators and Objectives
Every business needs to have its KPIs and objectives to understand if its approach is working. Let us give you a gist of things you should plan:
Goals: These are things that you want to achieve with your business
KPIs: They are measurable values and metrics to indicate the progress
Objectives: Steps to meet the goals of the business
Where to begin the ecommerce personalization process?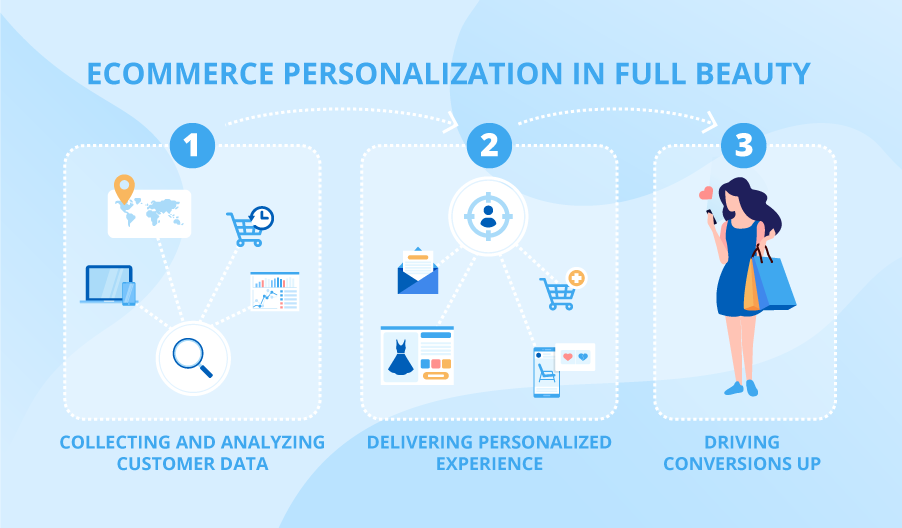 [Image Source : https://bit.ly/3W5ecJf]
You must design a unique data collection strategy to display the relevant content. You should collect and store informative data to hit the landing pages when someone visits. This will help to display personalized content and product recommendations for future visits.
The two required methods to collect information are:
Explicit Data Collection
This is known as Zero-Party data, which comes by asking the customers for the information directly. Like customers need to enter their name, shipping information, email, and other relevant data. This is important to understand users' interests and preferences.
Some common approaches that you must try:
Let customers rate the products
Encourage customers to search for items
Let them save their favourite products
Users should specify their objective data like gender, location, and more
Ranking the products by the customers
You need to collect valuable information for the business, which can be through a quiz. Make sure it is interactive, fun, and conversational. To create such a quiz easily and efficiently, you can use a quiz maker tool.
Implicit Data Collection
This happens when users browse the behaviour, which is tracked and used to deliver personalized E-Commerce User Experiences. The information is collected depending on the actions of users on the site, known as first-party data. While if you collect information from other companies, it is known as third-party data.
Some methods to collect implicit information are:
Track the product and category pages that customers visits
Analyse the time customers spend viewing the product and category pages
Maintain a record of customers' previous actions
Analyse the customer languages and word choices
Know their behaviour and engagement through social media networks
It is important to see the device customers use to engage with your store
How is ecommerce development the real game-changer in personalization?
Meeting Customer Expectations : If you have good features, there are chances that the users will revisit your store. Customers will easily drop off if they do not find relevant products instantly. The right strategies will help in increasing the retention rate for the customers.
Gain Loyalty and Trust : Once the customer reaches your store, simple signs help to gain customers' trust. It is important to make them feel cared for by understanding their preferences. It becomes your responsibility to reward the customers with special access and deals.
Increases Customer Engagement : If you handle E-Commerce User Experiences properly, they will be able to find relevant information and stay longer in the store. Providing them with special assistance is a unique method to retain users for longer. Everything should be seamless, be it delivery, invites, sample products, or feedback.
Boost Traffic : When you tailor the website that meets customer interests, they will want to invest more time and visit it frequently. If your website is personalized helps to understand the interests of visitors without spending too much time. It will grow traffic and increase conversion rates.
Drives Sales : Your brand can boost customer retention and increase sales with the right strategies. It will intertwine the overall marketing strategies to provide a better user experience. There are powerful tools that help to drive businesses to meet their objective.
What are the recent trends in ecommerce personalization?
Headless Personalization
This means using different frontend and backend systems that personalize the customer experience. Using customer information from the backend to personalize the user experience at the front end of your store.
The main aim is to personalize the content for every user without affecting the website design. This provides great flexibility to tailor the user experience and meet their expectations. The information is useful to offer exclusive deals, relevant content, and the personalized message on the website.
Privacy and Security through Ecommerce Development
The number of online shoppers is increasing their concerns about data collection methods as sensitive information is involved. This means privacy is essential in the ecommerce world as a key trend. The main approach depends on the direct or third-party collection of data.
Rather than collecting information hideously, you need to inform customers about every action to let them trust your platform. Data breaches are common, which means your brand should secure personal information.
Product Recommendations
This is the biggest trend in handling E-Commerce User Experiences. It uses AI-driven personalization and recommendations strategies. These technologies are helping to personalize the shopping experience and customer journey.
The power of customer information, artificial intelligence, and past purchase behaviour will provide a great customer experience. It is highly effective in driving conversions and leading to better order values as customers can view relevant products and reduce cart abandonment rate.
Image Recognition
The ecommerce business is continuously growing and needs to adapt new methods to personalize to beat the competition. Image recognition helps enterprises to recognize specific colours and visual patterns in product images.
The method will involve visual elements to provide a personalized experience for every shopper. You might deal with:
Displaying customer images for products
Recommend similar or related products using images
Visual search tool to find products by uploading the images
Anonymous Visitor personalization
Did you know 98% of the visitors on the internet stay anonymous and avoid providing any information? This makes it crucial to personalize the platform for the unknown visitor. The procedure is to tailor the online shopping experience to an individual's unique preferences.
Leveraging the customer behaviour in the store to understand their preferences will help provide better services. It is high time to start investing in this strategy to boost your business performance.
Omnichannel Ecommerce Development
Visitors will expect personalized shopping in your store with great benefits. Most people switch between three devices to complete the tasks and might use multiple channels to communicate with the business.
Only a handful of brands can meet these expectations and provide personalized omnichannel customer experience. It is the ability to deliver personalized experiences across all channels. This includes product recommendations, emails, personalized deals, and targeted ads.
Your aim must be to create a seamless experience where your visitors feel personal, regardless of which device they interact with.
Personalization in Pricing
Ecommerce marketers must stay updated with the advanced personalization trends. It is a great method to engage customers and boost conversions. Price personalization is when the business provides special pricing for individual customers depending on their purchase history, browsing behaviour, and other data.
It is considered a major incentive to help customers make a successful purchase without any challenges. This might be a difficult method which can be upsetting in some cases. It is better to hire ecommerce developers who will use powerful tools to drive sales and boost customer loyalty is better.
What are the steps to plan and manage ecommerce personalization?
There is a simple method to understand the success of your strategy, and it is time to have a roadmap to provide personalized E-Commerce User Experiences. Some approaches to having a deployable strategy are:
1. Segment
It helps in identifying the group of customers with similar characteristics. Some parameters that will help in segmentation are:
Demography: Personal information like occupation, age, gender, and more
Geography: Location of the visitors
Behaviour: Accessing the website interactivity, frequency, and purchase history
Psychograph: Data related to personal values, interests, opinions, or hobbies
Technography: Technologies used by the customers to interact
The market segmentation depends on the complexity of the personalization journey. It will achieve higher relevancy by including all the factors for segmentation.
2. Brainstorm
It is time to become creative with campaign ideas relevant to the groups. Some methods to get began:
Providing appropriate product recommendations during checkout
Real-time proof elements like reviews, feedback, and videos
Interactive features to promote the value of the customers
Return shoppers by asking specific questions about the experience
Showcase progress bars for loyalty incentives
3. Priority
Once you have some ideas, you need to understand the ones more valuable in the shortest amount. There are some basic methodologies:
PIE:
Potential Importance Ease. The improvement of product pages is valuable for traffic and complication for implementation.
ICE:
Impact Confidence Ease. The idea's impact, level of confidence that it works, and ease of implementing the strategy.
4. Design and Deploy
This is a crucial step to starting the journey. Many on-site tools will help to convey the messages to the users. The best practice to set up a great strategy is to answer all the questions:
Why
What
Who
When
Where
How Often
They will help in tailoring the individual strategy to achieve business objectives.
5. Measure and Optimize
Once you have deployed your ecommerce personalization strategy, it is time to measure the ROI (Return On Investment). There are various testing methods to handle in-depth information about your actions. Prefer using data-driven approaches to personalize scalable and valuable strategies for the business.
The End Note!
There is a plethora of information about handling E-Commerce User Experiences to create relevant experiences for loyal customers. Take advantage of the tools and resources available to ensure you are on the right track.
You might want to connect with us to grow the business and build a loyal customer base. We understand the market challenges and define another level of success.