Here at Elsner, we recognize it can be challenging for a new business to balance impactful e-commerce development while staying on top of all the other pressing needs you may have. That's why we're here to save the day! We're a certified Magento ecommerce development company that has time tested knowledge in supplying your business with high quality web development, mobile app development, and an array of digital marketing services. Our team of creative designers and developers make a concerted effort to bring your dreams into reality! 
In recognition of our success and prowess, we've been listed as a top e-commerce development partner by Clutch, a B2B market research authority. They leverage a unique ranking formula to compare and contrast leaders in a number of service-oriented sectors. We've also been recognized by The Manifest, another free B2B resource that features top firms and companies. They include us in their top 100 e-commerce development firms in India! 
We'd like to take this opportunity to thank our clients for helping us earn these honors. They got on the phone with Clutch to assess our impact on a number of crucial areas. We were graded on aspects like quality, attention to project management, and overall ability to drive results. Then, that feedback was transcribed and edited lightly into a case study format. Lastly, a finished review was published to our profile with a star ranking out of five. We're happy to say we've earned a lovely 4.9 out of five stars based on our client feedback! Check out a few quotes from our reviews below, including a screenshot of our most recent review below:
"The project was set to be completed by December 2019, however, Elsner had the website completed and working properly four months earlier. Communication between us was perfect. Their team was always on time quick to reply to any questions or concerns."
–Marketing Manager, Wellness Company 
"They're immensely supportive and positive. They're flexible with everything. No matter how crazy an idea I have, they'll build it. They're sincere about transforming the ideas into the technology solution."
– Founder, Seminar Startup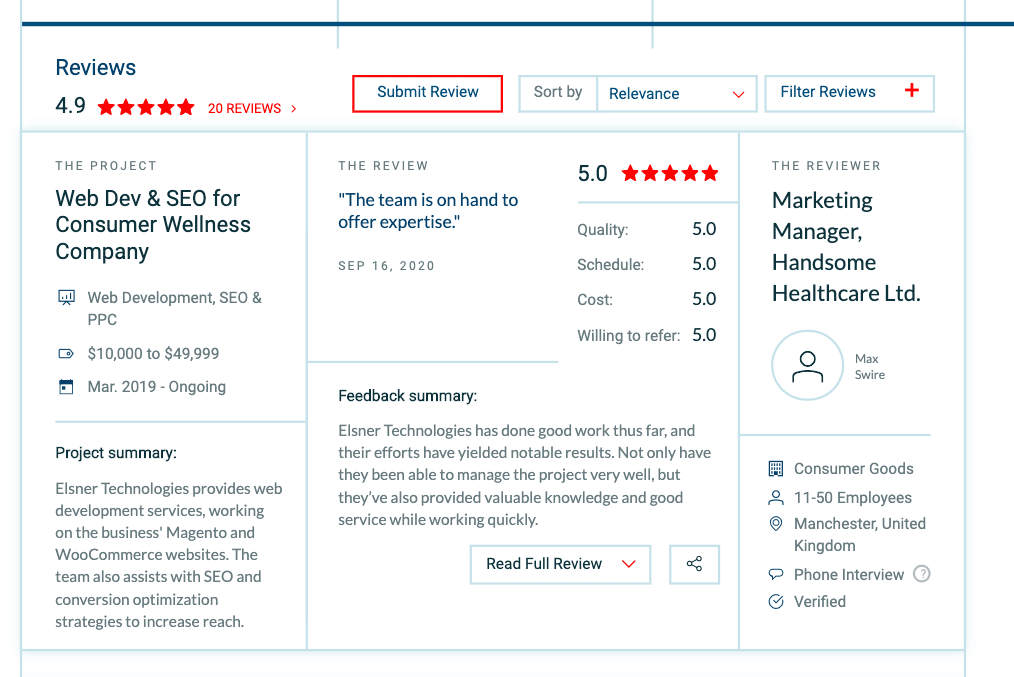 Once again, thank you to our clients and to the Clutch and The Manifest teams for making this recognition possible. Interested in learning how Elsner Technologies can help you actualize your business vision? Drop us a line and let's get started today!