In the today's era of the modern technologies E-commerce industries is the unbeatable platform for addressing the power of retail industry. The high-quality e-commerce solutions, digital marketing integrations, and many other activities can assist by increasing the sale and conversions of the online store. There are a number of the professional themes provided by the Magento, WordPress, Shopify and another E-Commerce platform. The client can easily manage brand and customize their various online store as per their requirement.
The E-Commerce Industries is trending in the various below mentioned fashion sectors:
The online E-commerce store provides many features that also includes mobile commerce functionality so that user can easily place an order easily anywhere in any device.
Components of eCommerce Portal
Status update for items, users, admin, vendor, agent, item category etc.
Administrative functionalities (product attributes, price displays, content management, order management, share product, Share users experience & reviews)
There are many Open Source E-Commerce Platform which has rich features of E-Commerce Solutions which give you the complete flexibility over the website and its look, content or functionality. It also has many different features in it that is, it is SEO friendly, has CMS applications and robust architecture.
It can also be customized according to your business needs, it also has third-party plugins which gives it greater flexibility and the customizing experts make it more useful though it lacks at the CMS capabilities like:
Challenges faced during the e-commerce website development:
Site Map, page structure, and layout of the e-commerce store must be user-friendly.
For providing the rich browsing experience can provide the advanced search functionality that user can filter the search by entering any keyword and sorting for different parameters like color, style, size, new items, sale/clearance items, etc.
Homepage and categories can be made more attractive for visitors by providing advanced listing like shop by brands, new arrival, sale items and featured.
Integration of advanced tracking system for keeping the track of orders, most visited products, brands, and customers.
Products can be customized by the users by hitting different parameters of the measurements, specifications, and quantity and accordingly the total order amount will change on real-time basis altogether.
Management and interaction of the inventory of the e-commerce store must be instant that will control the store catalog for consumer ease, sale, and recommendations.
One of the unique features of multi-store development services in the SEO Friendly websites that includes the creation of unique titles and descriptions for all pages in different sites, image optimization, use of SEO friendly themes, use of 'alt' tags in images and auto-generated sitemap, among others.
Future Aspects:
Mobile shopping is more in demanding and becoming more important than anything. The key factor needs to keep on high priority that the site must be fully mobile responsive. So in future, we will see that all the online store owners scrambling to develop site having fully mobile functionalities.
Wearable Technology is becoming more popular among retail stores for spreading all the discounts, promotions, offers and scannable codes to their customers.
Smaller e-commerce store owners will use traditional SEO to target customers in a limited geographic area and combine it with social media engagement to personalize relations with local customers. Their branding and marketing strategy will revolve around points that differentiate them from large vendors.
Top Online Shopping Websites having most reliable product reviews and rating: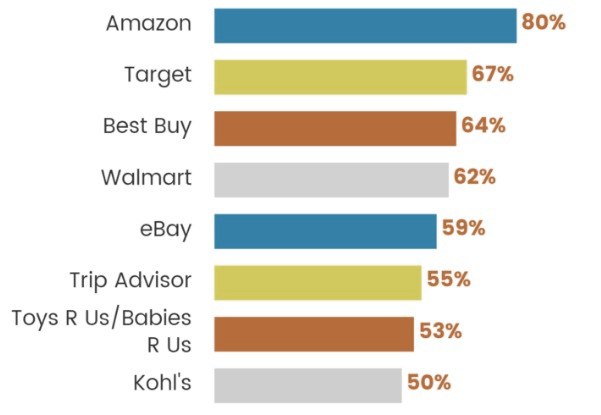 Top 10 countries with best retail e-commerce services: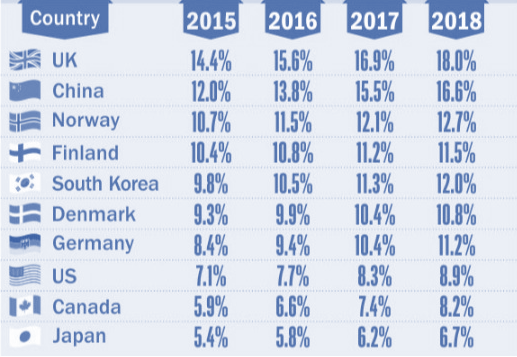 Market Scope:
Current year i.e. 2018 will be the most trending of having amazing customer experience for the eCommerce retailers. As these top trends and brands are making online shopping an amazing experience with beautiful UI/UX Layout and user-friendly functionalities which will be cost, time efficient and enjoyable as well. All of the top online retailers are successful in meeting the customer and retailer requirement.
Retailers will improve their numbers of loyal customers who are willing to share their trading experiences on social media which is the best source of expanding and increasing the scope of the business. Artificial intelligence is getting smarter, and shoppers are starting to understand and embrace its functionality.
By setting up a Chabot on your website to handle basic questions and requests, you will empower shoppers to make buying decisions quickly without having to wait for customer service to handle support tickets.