The wait is over, Google is rolling out an algorithm update that will fight the spam from November 3, 2021. With the November 2021 Spam update, Google has been more vocal in giving the right pieces of advice to the digital marketing world. After this launch, it is a time of glee and fear for SEO around the globe. There are chances that they have to start from scratch or greet the update with open arms. 
Every time Google rolls an update, we remember the quote from The Godfather, "I'm going to make him an offer he can't refuse." Having an online presence means you need to know about the latest trends in the market and make necessary changes on your platforms. 
In this post, we will see, What is the November 2021 spam update all about? How does Google look for Spams? Methods to stay safe from online Spams.
What is the Link Spam Update of Google?
Google is putting efforts to remove poor quality content that gets a higher ranking with this latest update. Links are known as the bread and butter of SEO. It is one of the significant elements that helps Google to decide the ranking of the websites. 
Links have heavy weightage, which has led the whole industry to connect in the digital world. This Google spam update 2021 focuses on paid links, guest posting, and affiliate links. 
The things that might happen to your business are:
Blogs 
It is important to have proper tagging links if they follow an exchange of money. Prefer using various rel tags in your links like:
Rel = "sponsored":

This is used when a link is placed as someone gets paid from it. 

Rel = "nofollow":

Users prefer this when linking to unsafe websites that they do not want to be associated with. 

Rel = "ugc":

It is User-Generated Content where anyone can add the content without editorial review. 
In the November 2021 spam update, it was clearly indicated that marketers must understand the value of links as they are the main source of your brand awareness and direct traffic.
Business 
Some tips you can follow to earn benefits from this update are:
If you have paid links, reach out and add the rel=" sponsored" tag to them. 

If your business relies on Guest blogging, then diversify your portfolio. The best links are not bought. Instead, they are earned. 

Track your traffic and rankings on web pages from every link. If you see a fall, then start outreaching and building authoritative links from your industry. 

You might want to get help from

professional SEO services

 for better results and to avoid any complexities. 
Google has planned to nullify the spam links rather than affecting the website content. This means you do not have to do a big clean-up and focus on improving your website for better results. 
How to Handle Google November 2021 Spam Update? 
Stay Updated with Google's Recent Releases 
This is a matter of knowledge. As a website owner, it is crucial to know the fundamental guidelines of the content and links. You can explore, What is Google Webmaster Guidelines in SEO? This might have helped you to track your website performance and maintain higher rankings on the search engines. 
The Google webmaster guidelines will help you focus on the vital segments of the website. Do not panic, and you have enough time to improve the website's content and target top rankings on the SERPs.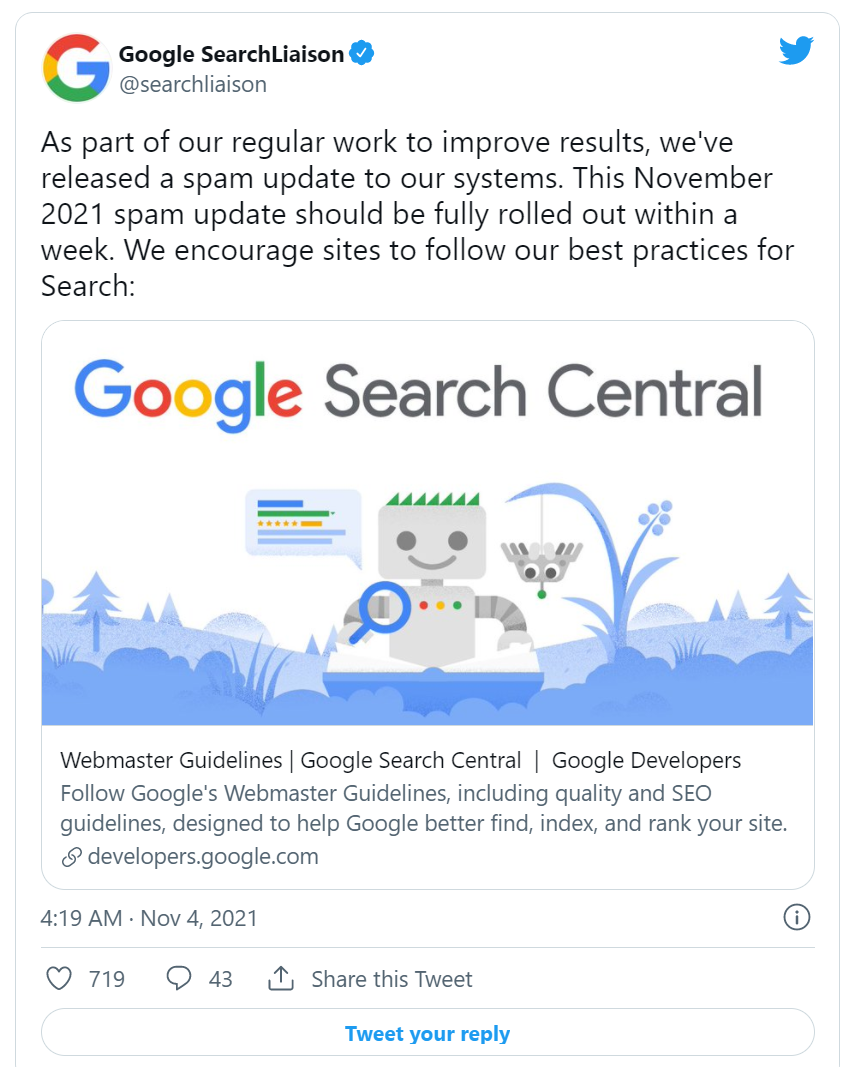 Assess your Platform Performance 
Take a wide overview of the web pages and keywords affected by the recent November 2021 Spam update. You might want to take guidance from the Search Console and Google Analytics. Set the time for comparison, then:
Export the affected URLs in a spreadsheet 

Look for the related keywords for every URL 

Then look for the top-ranking results from the keywords

Gather this information in a separate document 
This information will help you to add better keywords and enhance the performance. Also, go through the demands of the June 2021 update to ensure you are not missing anything. 
What are the Types of Link Spam?
Spam Posting:

Sometimes, you see links to the post in public forums, guest books, or comment sections regardless of the context. 

Hidden Links:

These are hidden in places that can be found only by the bots 

Single Post Blog:

Addition of multiple random links in the blog post to improve the backlink process without having any context

Link farms:

Some site owners agree to continuously link from one website to another for the sole purpose of SEO rankings 

Directory Spam:

Registering the website on thousands of blog feed directories. 
How does Google Think that your Website is Spam?
We know spam is irritating. Everyone who has had an encounter with spam will agree that it is frustrating to land on a promising page but useless. Many web creators deliberately manipulate search engines and digital marketing strategies to get better rankings, which is incorrect. 
We will let you know the methods to check if your or other website have spam:
They do not Socialize Much 
We know some people are spammers on social media, but their goal is different. When it comes to the November 2021 spam update, they focus on spam that aims to get higher rankings in the search results. 
They will not dedicate their time to building relationships and would rarely be found on social networks. Distinguish your website by building relationships and having a strong social network in the digital world. 
Over-Optimization 
You will notice the repetitive usage of keywords in the content. They will seem unnatural in the content, like word after word, known as keyword stuffing. This is not a good practice. You might see the usage in the page titles, domain names, URLs, or on-page content. 
To avoid facing issues with the November 2021 Spam update, try following the best practices to optimize the content and add the target keywords naturally. This will give you better rankings on the search engines. You might focus on the SEO trends to ensure you have the right context for the target audience. 
They won't Focus on Content 
Spammers give no importance to the content quality. It won't matter if it is unique or informative for the readers. In fact, spam web creators will have stolen content, repetitive data, or content pulled from other websites. 
To avoid this, make sure your website has unique and compelling content. This helps you stand out from the crown and reach top rankings for your content, not others. You can use the Google Webmaster Guidelines to understand the current demands and where your website stands on the search engines. 
Too Many Advertisements 
Spammers build websites where more than 50% of the content is in the form of ads. The main aim is to earn money, and adding ads will help them in this process. So, do not take any risks with advertisements and work on the website. 
Add quality content and Call-To-Actions on the website. Add ads only if necessary and do not occupy too much space on the website for them. The Google November 2021 spam update is no big fan of excessive ads. 
A Lot of Dead Ends 
A spammer pays the least effort to maintain a legitimate website. To run a website successfully, you need to upkeep changes and updates to avoid expiring of web pages. So, you might encounter too many dead ends, broken links, and pages not found on the spammed websites. 
As a website creator focusing on the November 2021 Spam update, you must commit yourself to keeping your website content fresh and updated. Also, you can give a read to the Google Summer update. This article will help you enhance your rankings and performance for the search engines. 
Engages with Low-Quality Links 
Some websites have used black-hat SEO techniques to achieve results faster. They help to gain traffic from low-quality websites, which will affect your website in the November 2021 spam update.
So the trick to get high-quality inbound links is through adding high-quality content to your website. Another method that you can focus on is Guest Blogging to leverage more traffic and influence more people. 
There is nothing to worry about the November 2021 spam update for the websites that follow the Google webmaster guidelines.
What does Google Recommend for the Links?
In the Google November 2021 spam update, you must add certain tags to various types of links. This will prevent search engines from marking it as a spam link. Focus on the below options: 
Affiliate Links 
The websites participating in the affiliate program should qualify the links with the rel = "sponsored" whether they are created dynamically or manually perform this action. 
Sponsored Post Links 
Advertisements or paid links should be marked with the rel = "sponsored" value for better rankings on the search engines. 
Guest Post Links 
These should be marketed as rel = "nofollow" value. 
This is the Right Moment!
Website owners need to follow the best practices to avoid being on the spam list on search engines. With the November 2021 spam update, it will be challenging for the websites that follow black-hat SEO techniques. 
We wish, 
"May the Force be with you." – Star Wars
There are chances that this is not enough. You might need assistance to avoid minor mistakes that can lead your website to the spam folder even with the quality content. To avoid such scenarios, contact us. Our team has the right tricks to ensure that you are safe from online spam. 
Being in the market for over a decade, we can easily differentiate the black-hat and white-hat SEO tricks. So, place your bet on the right organizations to stay in the digital world safely.